eFiling in Clay County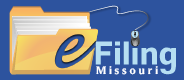 Effective April 11, 2016, any Missouri attorney in good standing or authorized agencies are required to use the Missouri Electronic Filing (eFiling) System to file documents for new or pending cases in Clay County. The eFiling system is located at https://www.courts.mo.gov/ecf/logon.do. Information about the system; including: 1) training videos, 2) answers to frequently asked questions, and 3) contact information for questions or problems; are available at https://www.courts.mo.gov/efiling.
Pro se individuals do not need to use the eFiling system — they may file paper documents at the courthouse.
There are no additional fees for eFiling.
This website has information on Child Support, Civil, Criminal, Probate, and Traffic cases in Clay County.