Veterans Court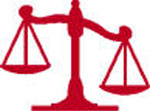 A New Form Of Justice
Veterans Courts are a cost effective alternative to prison. The criminal justice system works cooperatively with treatment and other service systems to provide an offender with all of the possible tools they need to lead a drug free, crime-free lifestyle.
Clay County Veterans Court Goals
Reduce recidivism of offenders.
Provide early intervention through intensive treatment and supervision.
Reduce the number of probation revocations to the Department of Corrections.
Provide a safer community for Clay County residents by successfully treating substance abusing felony offenders.
Who will be accepted into the program?
Eligibility for the program will be based upon previous criminal history, current pending charges and current use of substances. Criteria used for the Clay County Veterans Court will include a charge out of Clay County and willingness to particiapte in treatment services through the Kansas City VA.
The program description is here.
For further information, contact:
| | |
| --- | --- |
| Prosecutor's Office | 816-736-8300 |
| Treatment Provider, KC VA, Michele Parsons | 816-590-3997 |