Division IV: Judge David P. Chamberlain
Motion
All routine motions, those that normally take only a few minutes, can be scheduled on the following dates.

- Civil cases:
- Criminal cases:
- Probate cases:


- Thursday at 9:00 am
- Tuesday at 1:30 pm and Wednesday at 9:00 am
- Tuesday at 9:00 am


If the motion will likely take more than 30 minutes then another time can be specifically set. Please follow Missouri and local rules on contacting opposing counsel on availability prior to filing the Notice of Hearing.
Jury Trials
All jury trials will begin on Monday, or Tuesday if Monday is a holiday. Trial settings can be obtained by noticing up a Motion for Trial Setting.
Scheduling Orders and Orders for Mediation are highly suggested, but not required. A pre-trial conferenced will be scheduled approximately 20 days before the trial date. Verdict Directors will be required at the pre-trial and all dispositive Motions and Motions in Limine will be ruled on at the pre-trial.
Bench Trials
Bench trials will be scheduled throughout the week to accommodate the Court's schedule, counsel's schedule, the litigant's and witness schedule.
Criminal Cases
The Court will not accept "binding" pleas.
A sentence evaluation report will be Ordered in all felony cases, with few exceptions.
Pleas require a written plea petition.
Defendants must appear at all Court appearances.
Probate Cases
Unless the probate case is contested or a jury trial is requested all probate cases will be heard on the days and times listed above, unless specifically set at another time following the Motion for Trial Setting.
Judgments
In any case in which a Judgment will be entered the Judgment must be provided prior to the case being set for hearing. All Judgments need to be Emailed to the Division via email div4@circuit7.net.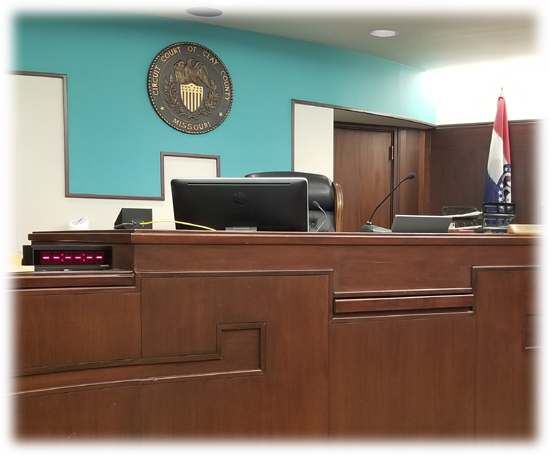 Judge DAVID P. CHAMBERLAIN
Division IV
Judicial Assistant: Jacque M. Baker
Tel: 816-407-3940
Email:
div4@circuit7.net
Motion
Jury Trials
Bench Trials
Criminal Cases
Probate Cases
Judgments